2019 Spirits Summit: how will we continue to grow successfully?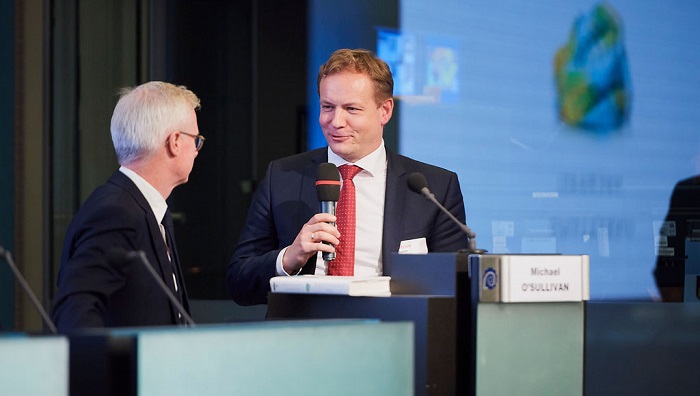 This year's Summit and Cocktail Reception provided the chance for plenty of formal and informal discussions on how the sector can continue to grow successfully in the years ahead. In his opening remarks, spiritsEUROPE President Christian Porta, Managing Director, Global Business Development of Pernod Ricard, highlighted some of the key challenges and opportunities that lie ahead: in trade policy, we are facing difficult times. All the more it is therefore important to maintain and further develop the rules-based international trading system, and maintan an ambitious EU trade policy that ensures that products like ours have free and fair access to third markets across the world.
Spirits also need a frictionless Single Market. In light of the recent increase in national barriers to trade in food and drink within the Single Market, the Commission must show strong leadership to fend off such measures and prevent any kind of re-nationalisation of the regulatory framework. With spiritsEUROPE's Memorandum of Understanding on consumer information we have put forward an ambitious roadmap that acts as a harmonized self-regulatory framework across Europe on how consumer information for spirits will be provided in the Internal Market. We are very grateful to Commissioners Andriukaitis and Hogan and their teams for working with us on this unique solution. The onus is now on us to deliver on the ambitious and far-reaching commitments that we have made!
Thirdly, we believe it is high time to work towards a more balanced and fairer tax system for alcoholic beverages across Europe. It is high time to start a more fundamental reflection process on how the discriminatory gap between the markedly different excise tax treatments of alcoholic beverages across Europe can be closed. As we tend to say: all drinks are equal, so why treat them differently?
Last but not least, we want our products to be enjoyed responsibly. We are therefore glad to see a consistent and constant decline in the rates of underage drinking, heavy episodic drinking, and drink driving in many regions of the world, and most pronouncedly in Europe. We strongly believe public-private partnership approach have contributed to these positive results. This is why we ask Commissioner for Health, Ms Kyriakides, to support multi-stakeholder partnership and commitment, and re-start the work of the European Alcohol and Health Forum.
The formal part of the Spirits Summit then featured six inspiring speakers – each of them looking at a specific challenges (and opportunities) for growth and – where applicable – reflection on the role of EU policy for each.
Michael O'Sullivan, Author of "The Levelling: What's Next After Globalization" looked at whether globalization as we know it was dead. He warned that the world is entering a new era and that we are in a fundamental transition phase. We are facing challenging times and the next 30 years will not be so kind and easy as the last 30 years. The new multipolar is something that Europe, its institutions and political leaders need to find clear and innovative approaches to deal with – a clear challenge for the new geopolitical Commission!
Maria Åsenius, Head of Cabinet of outgoing Trade Commissioner Cecilia Malmström argued that trade will remain a powerhouse for growth and jobs. She highlighted the achievements of EU trade policy with the largest trade network in the world (41 agreements covering 72 countries), with exports which have benefited 36 million EU jobs and greater focus on implementation and enforcement. According to her, it is clear that the EU policies have played a role in removing discriminating barriers and the EU has to continue protecting European companies from unfair competition.
Marja Aho, Sustainability Manager at Alko Oy, highlighted the growing interest by consumers in sustainable products, in wellness and greater transparency. She then presented concrete examples of how Alko is answering these expectations with for instance, working on environmentally friendly packaging solutions; offering modern selections of responsible; supporting conscious consumption with information and prevention tools and offering consumer information on labels.
Hervé Dumesny, Senior VP of Group CSR & Public & Regulatory Affairs at Rémy Cointreau, explained how growth for the spirits sector will come from premiumisation, or so-called "brand elevation", demonstrating how a reduction in alcohol consumption can be good for business, as consumers tend to trade up.
William Lavelle, Head of Irish Whiskey Association at Drinks Ireland, described the renaissance of Irish Whiskey and the role of spirits tourism in that development. The high reputation of, and growing demand for, Irish Whiskey is driving visitors from all over the world to distilleries to enjoy the unique experiences offered by producers all over the country. Follow @IWhiskey360 to discover more opportunities!
In her concluding remarks, MEP Irene Tolleret highlighted the Resolution on the US sanction that she put forward calling on the Commission to find urgent solution to support the impacted sector such as wine and spirits. She also stressed that issues affecting the spirits sector do not always belong to political committees, thus the need for an intergroup on "Wines, Spirits and Quality Foodstuffs" in the European Parliament. (Click here to see some pictures).
Following the plentiful food for thought from these presentations, our guests were ready to continue informal discussions over a drink and enjoy the best cocktail party in town, discovering the #SpiritOfEurope!
Ulrich Adam*
Director General
*In his capacity as permanent representative of SPRL ADLOR Consulting