Promoting consumer information on alcoholic beverages
On March 2019, spiritsEUROPE launched its revamped European consumer information. The responsibledrinking.eu website, and the 24 national information websites it links to, is intended to help consumers work out how much is too much, and to weigh up the pros and cons when deciding whether or not to drink.
Moderate alcohol consumption is compatible with a healthy lifestyle. The "Moderation by numbers" section offers information to consumers on what the low-risk drinking guidelines are for healthy adult men and women (i.e. consumption at a level where acute and chronic risks are similar to abstainers). It also includes warning of the danger of heavy drinking episodes and explain why zero consumption is necessary for minors, when driving and when pregnant and breastfeeding. This information is also available in the video below.
The website also provides information on how to assess calories in alcoholic beverages and provides this information for a random selection of drinks available on the market. It also provides detailed nutritional information, list of ingredients and production process inforamtion (as per Regulation 110/2008). This forms part of a commitment presented to the European Commission on 12 March 2018.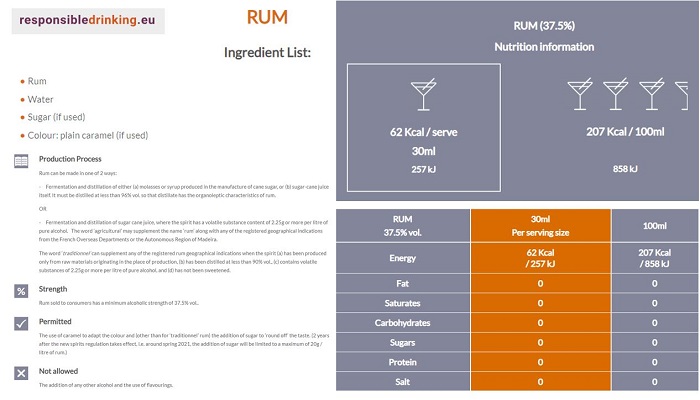 The website helps assess how much ethanol is in a "drink", a "unit" or a "standard drink". As the measure differs between countries, depending on culture and tradition, we invite consumers to visit their national consumer information website and use the "drinks calculator" to assess how much alcohol is in their favourite drinks. Last but not least, the website also provides "Tips & Tricks" for consumers to make their drinking occasion one to remember and not one to forget! (see our call to moderation)
This European portal is complemented by information websites developed by individual producers and national federations. They are promoted through their labels, point of sale material and advertising (See more details here).