Consumer Information on spirit drinks: European producers unveil new webportal as part of consistent push to deliver on last year's commitment
Brussels, 12 March 2019 – spiritsEUROPE, the trade association representing the producers of spirits in Europe, has unveiled a new one-stop-shop webportal that provides consumers with easy access to detailed information on all spirit drink categories legally sold in the EU. The publication is part of the sector's consistent push to boost the availability of nutrition and ingredient information and deliver on the committment submitted to the European Commission last year.
The sector also reports good progress in delivering on other, central pillars of the commitment which needs to be fully implemented by 2022. As part of this process, the sector remains in a close dialogue with the European Commission to work towards a common understanding on how best to advance further. Discussions will continue tomorrow (13 March) when EU Health Commissioner Andriukaitis is scheduled to visit a distillery nearby Strasbourg (France).
As of today, consumers can find on www.responsibledrinking.eu convenient and easily accessible information on all of the EU's 47 spirit drinks categories. For each of them, calorie information is provided per 100 ml and per serving size, as is the list of ingredients, the full nutrition declaration, and further important information on the production process.
"Today's launch of the webportal is testimony to the significant advances we have made since last year in making more and more information more easily available to consumers. In this specific case, we're talking about an unprecedented level of transparency, with the information provided going well beyond the levels of what comparable legislation would mandate", said Ulrich Adam, Director General of spiritsEUROPE. "To be sure, this is not the end of the road, but very much work in progress. We are confident of implementing our commitment fully by 2022", he added.
Availability of this information will be scaled up further in the coming months, as national member associations and companies will gradually integrate it in their respective languages into their websites.
Message from a bottle: making consumer information directly available via smartphone scan
The sector also reports good progress has been made in delivering on the commitment to make consumer information directly available from bottles via smartphone barcode scans by the end of 2022. To do so, a formal cooperation with global supply-chain standardization body GS1 kicked off on 8 February 2019.
The standard that will be developed together with GS1 will provide a common language for all relevant actors on product-specific nutrition and ingredient information. The information will then be made available via open Application Programming Interfaces (APIs) to allow for the development of new and innovative digital information tools such as dedicated mobile apps.
"This is an exciting and innovative technology approach which will add real value in making reliable, multilingual information directly available to consumers from the product 24h a day," Adam said.
"Also in the area of consumer information, it's time to think about how to build a true Digital Single Market in the EU. Our cooperation with GS1 will make an important contribution in that regard."
Commenting on the ongoing exchange of views with the European Commission, he added: "We are very grateful for the cordial and constructive dialogue with representatives from the Commission during the past months. We are working to reach a common understanding on the best way forward and hope to achieve this very soon." A first official report on the progress made so far will be delivered to the European Commission on 31 October 2019.
ENDS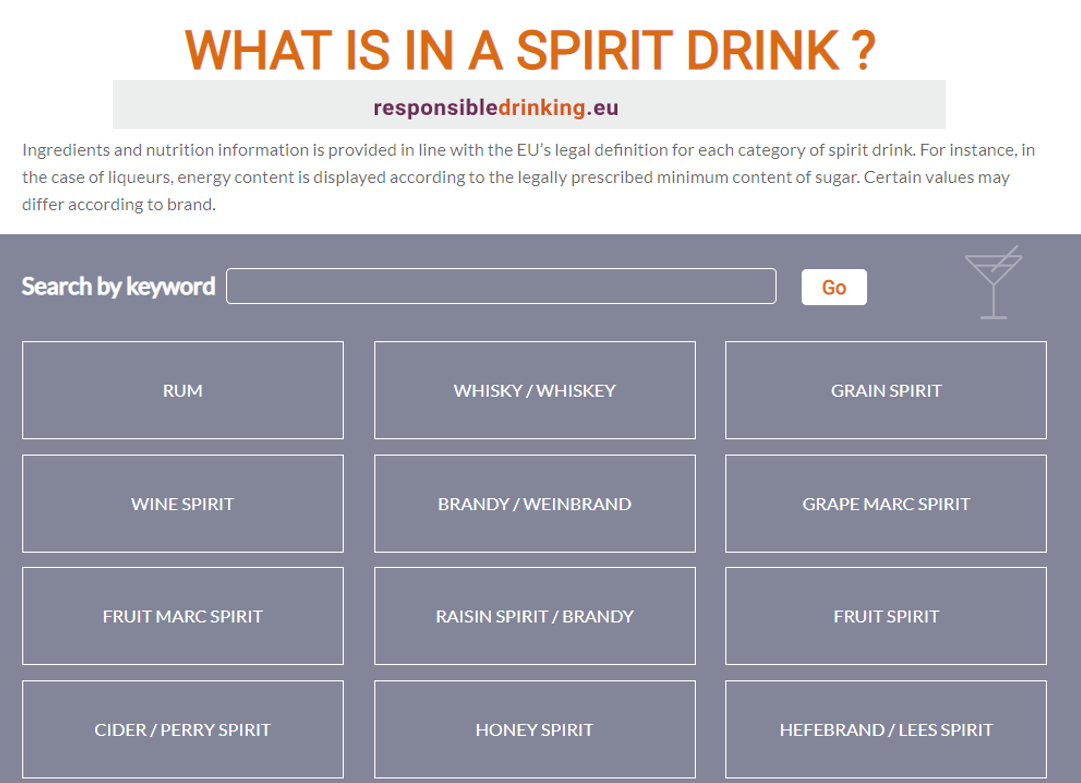 Note to editors
For more information, please contact: Ulrich Adam, Director General - Tel: +32 477 63 67 adam@spirits.eu
spiritsEUROPE is the representative body for the spirits industry at European level comprising 31 associations and 9 multinationals: www.spirits.eu.
On 12 March 2018, seven trade associations representing producers of spirits, wine, cider and beer presented a joint voluntary commitment – the "Self-regulatory proposal from the European alcoholic beverages sectors on the provision of nutrition information and ingredients listing" - to Health Commissioner Vytenis Andruikaitis. The voluntary commitment encompassed six general principles and pledges on how to move forward.
In its sector specific annex to the joint document, spiritsEUROPE committed to ensure that, by the end of 2022, information on the nutrition and ingredients of all spirits sold in the EU is made available to consumers (online and/or offline).
Overview of spiritsEUROPE's Core Commitments & Progress to Date
Commitment

Status to-date

Next Steps & Reporting

Comprehensive information on all 47 spirit drinks categories legally sold in the EU made available online (including per category: energy information per 100ml and per seving size, list of ingredients, full nutrition declaration, information on production process).

DONE

Information to be translated & integrated into national consumer information websites (full list on EU Portal) by end October 2019.
1st progress report on national implementation & communication to consumers to be delivered on 31 October 2019.

Information on ingredients listing and nutritional information easily and directly accessible any time any place from products as e-label (by end of 2022)

ON-TRACK

Formal cooperation with GS1Europe, national GS1 structures, producers and retailers started on 8 February2019.

Core structure of "data cloud" to hold ingredients and nutritional information for each SKU (Stock Keeping Unit) to be developed by the end of 2019.
App developers to be invited to design and implement the interface for consumers to read out the information from the barcode.
Real-life solutions to be developed & scaled up before end of 2022.

Gradual roll-out of schemes to provide energy information on-label (large producers [representing 50% of the market in value in the EU] and several member associations in spiritsEUROPE are ready to roll out the scheme 6 months after a common understanding on it has been reached with the European Commission)

ON-TRACK

Discussions with the European Commission have been held to work towards a common understanding on the exact scope and parameters of the scheme.
Progres has been made, and a common understanding could be reached soon.

6 months after a common understanding has been reached with the European Commission, the scheme will be rolled out.
In addition, spiristEUROPE supports the pilot project launched by ETRC at the end of 2017 to develop a multilingual digital platform for product information in duty free and travel retail, across three core product categories including alcohol. Product information is accessible directly from the barcode on the packaging which can be scanned using a smartphone or in-store scanner facilities, or accessible via a website.
Consumer research took place in December 2018 at Hamburg Airport to collect travellers' feedback on the pilot version of the digital platform. Using a comprehensive, ISO-certified methodology, the objective of this survey was to measure the solution's user-friendliness and functionality as well as the needs and desires of participating customers accurately. The findings showed great potential for acceptance of the system by travellers and will be used to make any necessary adjustments with a view to rolling out the solution on a bigger scale.
*****
GS1® is a neutral, not-for-profit organisation that provides global standards for efficient business communication. GS1 is best known for the barcode, named in 2016 by the BBC as one of "the 50 things that made the world economy."
GS1 standards improve the efficiency, safety and visibility of supply chains across physical and digital channels in 25 sectors. It enables organisations of all types and sizes to identify, capture and share information seamlessly. The scale and reach – local Member Organisations in 112 countries, 1.5 million user companies and 5 billion transactions every day – help ensure that GS1 standards create a common language that supports systems and processes across the globe.
GS1 in Europe is the regional entity of GS1 gathering 47 GS1 national organisations.
GS1 in Europe is committed to making this initative very successful together with spiritsEUROPE and all other relevant and interested stakeholders.
---
The European Travel Retail Confederation (ETRC): is an industry association for the duty free and travel retail industry in Europe, serving the industry and its members to help create the right environment to allow the industry to achieve its potential and protect it when challenges arise.