spirits Summit 2016
Summit and Cocktail 2016 - "Trade, thats' the spirit"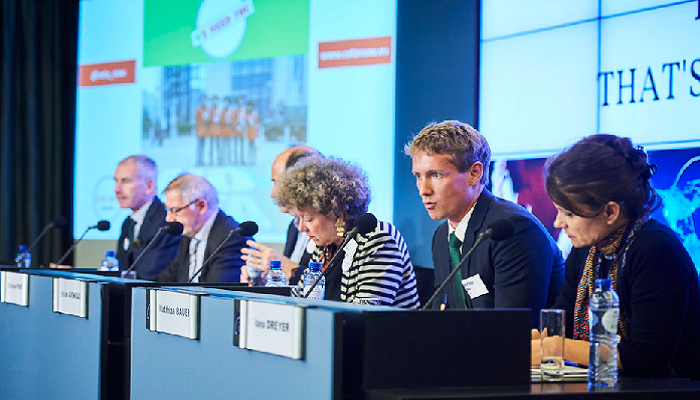 In an uncertain economic and political environment where confidence needs rebuilding, what can Europe's spirits entrepreneurs do to create jobs, defend traditions and foster growth over the duration of the present Commission and Parliament? Part of our answer is "more trade". The main question of the Summit was therefore whether we can revive the spirit of trade and how?" Can trade and trade agreements find support in public opinion? Is the trade world having a problem of political communication – or is it all about the substance. A high level panel was invited to reflect on this topic: 1) Maria Asenius, Head of Cabinet of Commissioner Malmström; 2) Christian Porta, CEO of Pernod Ricard; 3) Harald Wiedenhofer, Secretary General of the European Federation of Food, Agriculture and Tourism Trade Unions; and 4) Matthias Bauer, Senior Economist, European Centre for International Economy.
"MERCOSUR trade deal is one of the most exciting prospects for the future of EU trade" said Maria Åsenius. Mercosur countries represented "this big area in the world that has for so many years been shut out from competition. It would be fantastic if we could get into this market, especially before everybody else." The position of Donald Trump might also be an opportunity to look for better deals and better market access conditions. The Commission is also fully aware of the negative impact of new trade deals on some European agriculture sectors but insisted said "we are careful when we negotiate". Still the EU's agricultural exports are booming and the food & drink is "a real offensive interest" of the EU, providing much reason to pursue trade deals, she added.
spiritsEUROPE is one of the few industries openly campaigning for more trade deals, most notably with the recent CETA NOW campaign. Christian Porta, CEO Europe of said all PR's 18,000 employees are "ambassadors for free trade" because everyone in the sector knows that future sales increases are less likely to be made in Europe, but instead in emerging markets such as India and China. However, Porta said, other industries equally dependent on exports weren't doing enough to counter the prevailing anti-trade sentiment. "We all need to be as vocal as possible in supporting free-trade agreements" he said.
Harald Wiedenhofer explained that we need to talk about "Free Trade" rather for "Fair Trade" if we want to restore trust in trade in Europe. Matthias Bauer shared information from a study on how European citizens really feel about TTIP. A majority of EU citizens still feels positive about TTIP but a German based anti-TTIP NGOs are using internet campaign to manufacture discontent about TTIP in a growing number of countries. More engagement of all is needed and better communication by the Commission on the benefits of free trade, based on reality (and killing myths).
About 200 participants attended the Summit followed by the Annual Cocktail Reception. Some pictures here to testify it was a success and good fun.
To feed our #CETANOW campaign, some of you were interviewed... see the first results here . But stay tuned, more to be seen at www.cetanow.eu and on @ceta_now