In Trade We Trust… More than ever!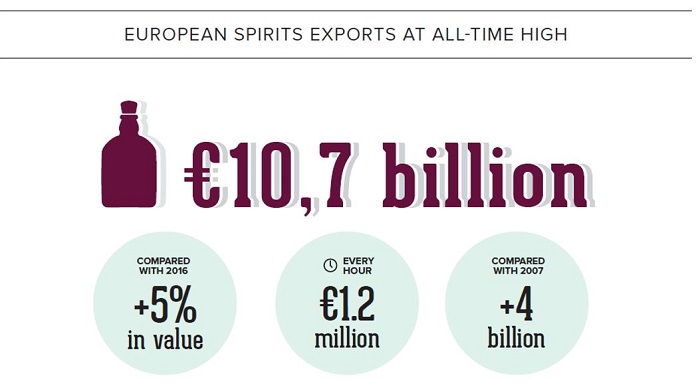 On 19 June, we launched our Annual Trade Review showing a 5% growth compared to 2016, which means 2017 has been again an excellent year for exports of our European distilled spirits. Exports totalled €10.7 billion, roughly translating into average sales of around €1.2 million every hour. With spirits exports exceeding imports into the EU, the sector effectively generated next to €9 bn in net value.
Looking ahead, future growth will greatly depend on the EU's capacity to conclude ambitious trade deals and open up new markets while defending Europe's interests by avoiding further escalation of tensions with leading trading partners.
Our new export data show just how much European spirit drinks are appreciated around the world. Wherever local economies grow and markets open, we see a rising demand for our whiskies, vodkas, Cognac or gins. As a true champion of free and fair trade, we very much value the Commission's efforts to negotiate tariff removal and to eliminate non-tariff barriers. This helps our spirits producers, large and small, to be commercially successful abroad and raise awareness and appreciation of their brands.
The benefits are manifold and substantial – and go well beyond our sector, including our suppliers, distributors, and customers around the globe. The testimonial of Adeline Farrelly, Secretary General of FEVE representing our glass bottle suppliers is one of the great example of a win-win situation generated by our trade success.
Yet we cannot take any of this for granted. During the last months and days, the trade "narrative" has become increasingly difficult, with fresh challenges emerging. Now, more than ever, is the moment to trust the value of rules-based trade relationships and the mutual benefits they create for those who engage in them. Our success shows that trade works and can be a source of investment in Europe as highlighted in the publication by Manfred Jus, Managing Director Western Europe of Beam Suntory.
We therefore need an assertive, positive EU trade agenda that accelerates new trade negotiations with additional countries. We also see a need for faster and more robust enforcement of rules already negotiated at WTO-level or in Free Trade Agreements. We therefore call on EU decision-makers to reallocate staff resources towards the trade agenda within the Commission.
Moreover, Brexit has opened up a new complexity for the European spirit sector. We have shared links and interests with the UK, both human and corporate. The clock is still ticking, and we count on progress to be made on time to preserve the prosperous trade flows and business links that unite the EU-27 and the UK.