Germany- Responsible from the Start!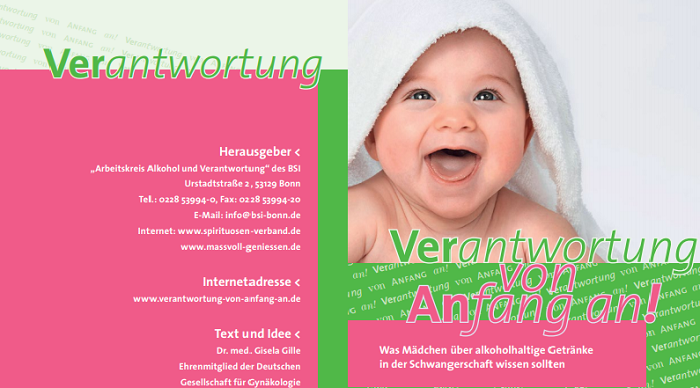 The BSI's "Alcohol and Responsibility Working Group "information campaign was launched in 2009 to promote zero alcohol consumption during pregnancy (and nursing) and to reduce the number of children born with alcohol-related disabilities. The campaign is running in cooperation with the Paediatric clinic and polyclinic at the university hospital in Münster (UKM), the FAS outpatient department at the Walstedde clinic as well as with the German Professional Association of Gynaecologists (BVF).
A number of tools have been designed to get the message across to women; young girls and their surroundings: information brochures, flyers, posters, website and campaign through the press. In addition, a dedicated Foetal Alcohol Syndrom leaflet is distributed since 2012 to promote a better understanding of children, adolescents and adults with prenatal alcohol damage. It offers practical tips for successfully helping those affected and gives pointers to potential therapy, school and statutory assistance for them and their families.
From launch until November 2017, about 3.5 million leaflets in German and English were distributed to the target group via gynaecological practices, midwives, pregnancy advice services etc. In 2018, the 7th edition of the "Responsibility from the start! – Foetal Alcohol Syndrome" have been printed and will reach a distribution of 180,000 pieces by the end of 2018. About 39,500 practice packs were sent to gynaecological practices. About 315,000 girl's leaflets were distributed.
The latest evaluation in 2016 with girls aged 14-17 years old found that 99% felt well informed through the "Happy-Me" bag they receive at their first gynaecologist visit containing information brochure & flyers and 89% reported having read the flyer, of which, 73% said they learnt something new.
The evaluation with pregnant women that same year showed that 85% of pregnant women who received the leaflet went on to read it, of which 72% said they learned something new 84% confirmed that they learned why they should abstain from drinking alcohol whilst pregnant from the leaflet. More importantly, another evaluation via IDS (Information Display Services for Doctors) carried out in September 2016, showed that 95.5% said that they will completely abstain from alcohol during pregnancy in the future.