Fruitful visit of spiritsEUROPE to China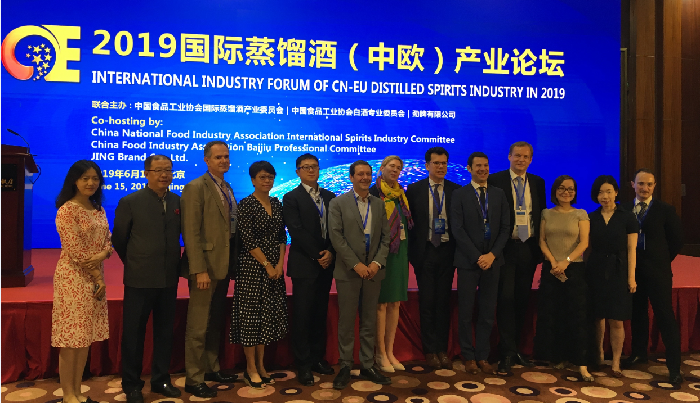 China is the world's largest spirits market and home to the biggest global spirit: Baijiu. spiritsEUROPE was pleased to be invited to the 1st International Industry Forum of CN-EU Distilled Spirits Industry which took place on 15 June in Beijing and gathered a full room of representatives from different Euorpean and Chinese associations, institutional representatives, academic researches and companies.
With exports having grown by 151% (in value) over the past decade, China presents a highly attractive destination for European spirits. For the fifth consecutive year, China remains the second largest export market for European spirits – a remarkable fact given that imported spirits in China still represent only a tiny fraction of less than 1% of total domestic consumption. The largely untapped Chinese market holds great potential due to the sophistication of Chinese consumers, their changing consumption habits and tastes. In line with this, we expect the market share of European spirits to grow further thanks to increased consumer knowledge and appreciation of international spirits. In addition, new opportunities are likely to open in the on-trade thanks to the dynamic development of the cocktail culture.
At the same time, a number regulatory issues remain to be solved which require an ongoing dialogue & mutual understanding with the Chinese authorities. The visit provided a unique opportunity to update each other on regulatory and market developments in both China and the EU and discuss prospects for future growth.
We were very grateful for the participation of DG AGRI and the EU delegation in the conference, presenting on the new EU Spirit Drinks Regulation and the success of the European GI system. At the same time, the Chinese authorities shared details about their system. The authorities have been through a major reshuffle last year and are in the process of developing their vision on the regulatory framework and enforcement.
One major issue of common concern is the fight against counterfeit goods which is equally damaging EU & Chinese businesses. Another common focus of activities is the promotion of responsible drinking. Since 2015, the National Responsible Drinking Awareness Week has been successfully held in China during the third week of October. This year, the week will take place from 18 to 25 October with the focus of preventing underage drinking.
Looking ahead, the over-arching objective of this cooperation is to meet the commitments made by EU and Chinese leaders during the EU-China Summit in April: to conclude the GI agreement this year (it includes famous spirits names from EU and from China) and progress on the feasibility study on closer cooperation on wine and spirits. As spiritsEUROPE, we are fully committed to playing an active role together with the Chinese spirits industry to achieve these objectives.