Let's talk about alcohol – School Programme in Finland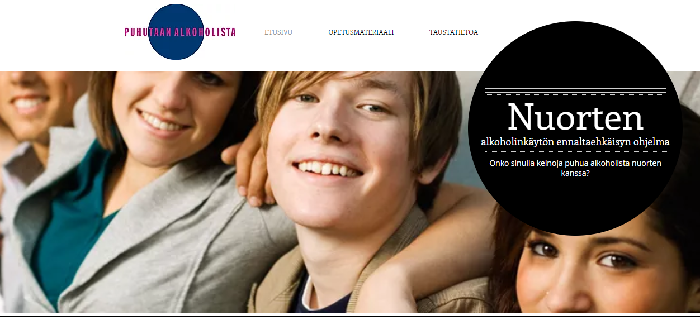 Puhutaan alkoholista – Let's talk about alcohol – is an educational campaign launched in 2010 by our Finnish member association SAJK to help promote responsible drinking among young people in Finland. It is tailored to Finnish audiences and the local situation in the country and consists of a series of lessons in 4 different levels which teachers can use with students aged 13-17 in lower and secondary schools.
Last year, SAJK carried out an evalauation with teachers to obtain feedback and learn about their opinions about the material that forms part of "puhutaan alkoholista". From the more than 70 answers that were received with the help of a dedicated survey, SAJK obtained valuable insights into the type of material that teachers actually need and which works best in an educational setting. The feedback has been thoroughly positive, yet several respondents underlined that more resources, both financial and physical, should be allocated to the programme in order to increase awareness about it and achieve even better results. In particular, teachers welcome the fact that more video support instead of 'classical' lecture- type teaching material are offered as part of the programme.
One typical example of the positive feedback received on this programme reads as follows: "Thanks for sending in the survey, I got truly interested in this material! In Health Education, we have many different subjects to teach, and there is very little time to discuss them. Usually, young people are interested in tasks that are somehow related to their own everyday life, or that are accompanied by a good example."
In the programme, lessons are broken down into a teacher , student and exercise section. They can be used in their entirety or tailored with particular focus on certain aspects, and can be incorporated into a variety of subjects, including Finnish language studies, social studies, biology and health.
The in-class exercises are geared towards the needs of young people based on their backgrounds and experiences and are designed to empower the students to deal with social expectations and peer pressure. Active student involvement and informal discussions are promoted.
In 2018, the teaching material was revised and compiled into a a free e-book the content of which can be downloaded from the campaign website, www.puhutaanalkoholista.fi. Two new videos were added to ease discussions and interactions between students and teachers.
The teaching material is promoted at educational fairs, through social media campaigns, advertising in education magazines and by contacting teachers directly as well as at school events.