Ireland – Drinkaware.ie supporting health & wellness in the workplace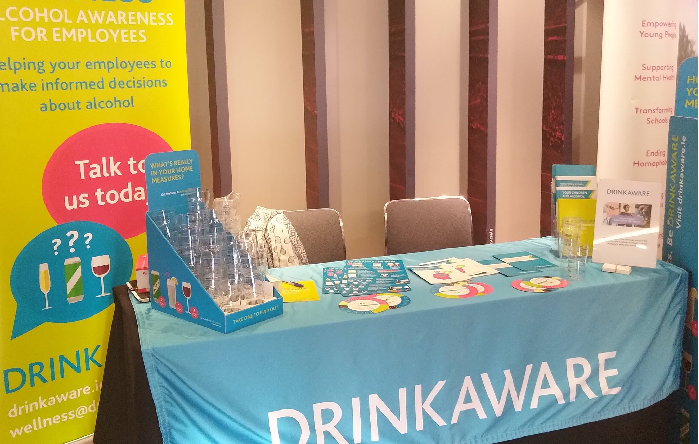 The impact of alcohol mis-/ab-use in the workplace can be significant and can manifest itself in greater absenteeism, lower productivity or unsafe working conditions. Still, it is often not a featured component of employee wellness programmes or initiatives. Drinkaware.ie, therefore, developed and implemented last year dedicated prevention tools to support employers and employees to address these issues. Overall, 63 Workplace Wellness events were facilitated, 33 employee workshops were delivered, reaching 2,615 employees nationwide.
Drinkaware's workplace wellness includes a toolbox of options and programmes for employers:
A 1h interactive workshop featuring key facts about alcohol and resources.
Staffed information stands for employees to improve knowledge on responsible drinking.
Intranet content with engaging seasonal content to help promote alcohol awareness throughout the year.
Health promotion resources providing evidence-based information about alcohol, tools to make it easier to understand drinking habits and tips to make small, positive changes to drink in a less harmful way.
Since every business is different, The Drinkaware.ie Workplace Wellness Manager discusses the employers' needs and works with them to create the right programme for the organisation. Employers can choose from different options to create a package that suits their employees.
In addition to reaching out to employers, Drinkaware.ie also raises awareness in the programme by taking part in events.
In April 2019, on National Workplace Wellbeing Day, Drinkaware.ie made the case for including alcohol awareness as part of employee health and wellbeing initiatives, and Drinkaware's range of options to support this including workshops, manned information stands and evidence-based health promotion resources. In June 2019, the Drinkaware team hosted an information stand at the KeepWell Summit in Croke Park to share details of the Workplace Wellness Programme and talk to attendees about the role alcohol awareness has in wider health and wellbeing events.