spiritsEUROPE launches Fit for Recovery plan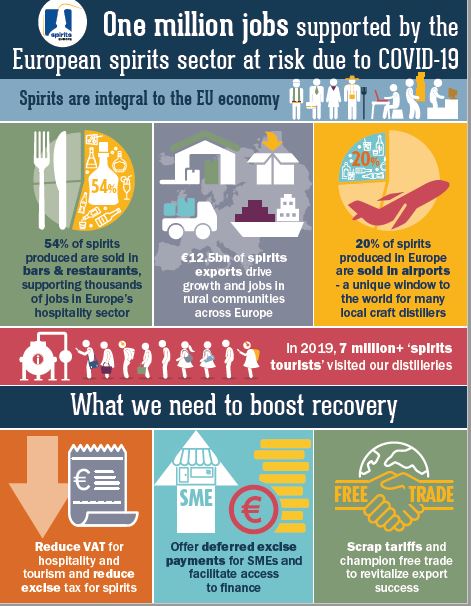 1 July 2020
The European spirits sector supports over one million jobs across its value chain from grain to glass.
As the representative body for the sector at EU level, spiritsEUROPE has been busy consulting with its members as well as with colleagues across the hospitality and tourism sectors to develop a plan to protect those jobs and get the industry back up and running.
54% of spirits produced in Europe are sold in bars and restaurants, supporting thousands of jobs in Europe's hospitality sector. Another 20% are sold in airports and a remarkable total of €12.5bn of annual sales in overseas markets make the spirits sector one of Europe's largest exporters.
All of these markets have been devastated by COVID-19, putting huge pressure on distilleries and in some cases threatening their viability, but all can bounce back with the right policies and support.
spiritsEUROPE, our member associations and our member companies are working on a joint plan to get people back to work, to keep outlets open and to preserve our markets overseas.
Our policy requests in support of this plan are simple – what we need now is relief, support and action:
Taxation relief
Spirits in Europe are subjected to some of the highest excise rates in the world, which is compounded by high rates of VAT across the hospitality and tourism sectors.
We welcome the fact that a number of European countries have reduced VAT rates for hospitality businesses but note that beverages have been excluded from a number of these policies.
We call on governments to implement comprehensive VAT reduction programmes that support bars as well as restaurants and also to implement temporary excise reductions to encourage consumers to support their local hospitality businesses.
We also call on the EU to reconsider recent proposed changes to the Excise Structures Directive in order to remove unjustified discrimination between alcohol beverages products and producers and also by providing meaningful tax breaks to craft distilleries.
Support with cash flow
Just as hospitality businesses need the breathing room of deferred VAT and other taxes in order to get back on their feet, so too do Europe's distilleries, who in addition to being shut out of their main markets for many months, are also suffering from a lack of visitors (in 2019 over 7 million tourists visited distilleries in Europe, bringing much-needed spending to many communities, often in rural areas).
We are therefore calling on governments to offer deferred excise payments to small and medium-sized distilleries, and also to facilitate access to finance for our members who need bridging loans to get through the difficult trading period ahead.
Action on trade
Europe's premium brandies, whiskies and vodkas are much-loved and sought-out across the world.
The European Commission has long been a strong advocate for free trade and we ask them to redouble their efforts to resolve ongoing trade disputes.
In particular, our sector desperately seeks resolution of the trade dispute with the USA, our biggest export market, which currently applies a 25% tariff on many of our members' products.