#ToastsNotTariffs!
Yesterday, my colleague Chris Swonger from our US partner organisation DISCUS ( the Distilled Spirits Council of the United States) and I met with officials in Brussels, conveying a clear message of transatlantic unity with an urgent ask: get the spirits sector out of the current trade disputes and return to tariff-free spirits trade between the EU and the US. True to the transatlantic nature of our initiative, we reached out to both EU and US officials yesterday, including the European Commission as well as US Ambassador Gordon Sondland and the US State Secretary for Agriculture, Mr. Sonny Perdue. As recent EU and US tariffs on spirits are starting to bit, we are in the unfortunate position of being able to provide fresh evidence on the negative impact of these tariffs on consumers,producers, as well as supliers and distributors in the EU and the US.
So how did we end up in this place, after the EU and US had agreed to end most tariffs on spirits already back in 1997 when a landmark'zero for zero' deal was signed? . While transatlantic spirtis trade flourished in the aftermath by +450%, this situation ended abruptly in 2018, when the EU imposed 25% tariffs on American Whiskey as part of a reaction to US restrictions on European steel and aluminium imports. In October 2019, the US then imposed 25% tariffs on Single-Malt (or straight) Irish and Scotch Whiskies from the UK as well as Liqueurs and Cordials from Ireland, Germany, Spain, Italy and the UK following a WTO ruling approving US countermeasures in response to EU civil aircraft subsidies to Airbus.
Following the imposition of EU tariffs in 2018, US Whiskey exports to the EU declined by 29% between January and November 2019 (compared to January–November 2018). After the imposition of US tariffs on certain European spirits in October 2019, evidence is starting to emerge about similar economic damage.
As part of the ongoing Review of Action on the enforcement of U.S. WTO Rights in Large Civil Aircraft Dispute carried out by the US Trade Representative (USTR), our colleagues from DISCUS have submitted clear evidence of the potential risks and economic damage to U.S. businesses of all sizes as a result of tariffs. Research models demonstrate that between 11,200 and 78,600 US jobs could be lost if tariffs were continued or increased (to 10%, 25%, 50% or 100%).
As we can see, there are no winners in a trade war. In addition, it is unacceptable for us to pay the price for totally unrelated trade disputes that are essentially about steel, aluminium and civil aircraft subsidies!
On behalf of the thousands of spirit producers and millions of consumers, Chris and I urge the European Commission to remove the rebalancing tariffs on US Whiskey that were imposed in the context of US steel and aluminium tariffs and to exclude US spirits from the final retaliation list in the Boeing dispute, in case it cannot be resolved beforehand. We also urge the US representatives to remove tariffs on imported EU spirits, as they are exerting a significant negative impact on the US market also.
So how can you take action on all of us? Please join us and tweet in support of our initiative, using the hashtag #ToastsNotTariffs! Let's work together to make transatlantic spirits trade tariff-free again!
Ulrich Adam*
Director General
*In his capacity as permanent representative of SPRL ADLOR Consulting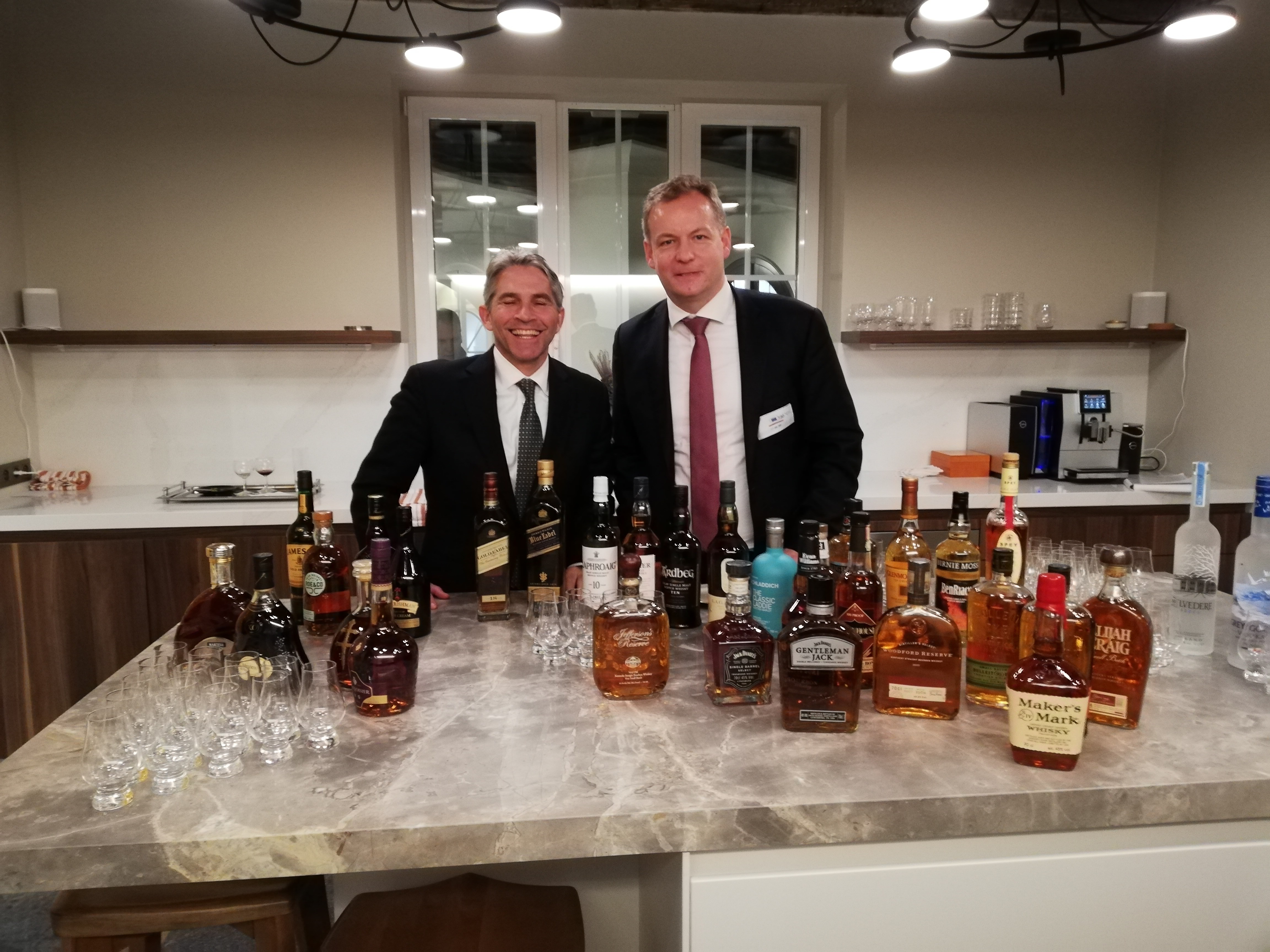 Chris Swonger & Ulrich Adam at the Residence of the U.S. Ambassador Gordon Sondland.