spiritsEUROPE appoints a new Director General and welcomes a new President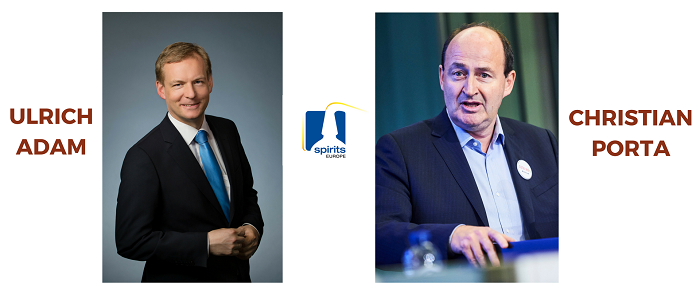 Ulrich Adam becomes the Director General of spiritsEUROPE, effective as from 15 January 2018. Together with a new President, Christian Porta - Chairman and CEO of Pernod Ricard EMEA & LATAM - a renewed team will lead the organisation in the new year.
"It is a great honour for me to take the leadership of spiritsEUROPE representing an iconic sector with a well-deserved global reputation for quality and innovation. I salute the legacy of Paul Skehan and the team and look forward to addressing the opportunities and challenges facing the sector from Brexit, alcohol-related harm, consumer information and market access across the globe" said Ulrich Adam. "It is my ambition to work with our new President, staff, membership, stakeholders, and EU institutions on the commitments made by the large and small distillers and to promote policies that deliver economic growth and jobs in the European regions where our production is deeply and firmly rooted".
On 22 November, spiritsEUROPE welcomed Christian Porta, the new President of the organization for the next two-years succeeding Joep Stassen from spiritsNL. Christian is a member of the Executive Committee of Pernod-Ricard, responsible for EMEA and Latin America. "From farm to glass, spirits are an essential part of Europe's tradition and culture of quality, pleasure and conviviality," he said. "My main objective will be to drive home to the European institutions the legitimate interests of the spirits sector as a proud contributor to Europe's excellence and one that remains committed to promoting responsible drinking and sustainable growth".